We're chatting today with Anna Trammell, inventor, Founder and CEO of RayahHair, about her morning routine. You can connect with RayahHair here and here. Anna works remotely from home and from her office at Sesh Coworking.
What time do you usually wake up? Is that a time that feels natural or painfully inconvenient for you?
I normally like to wake up at 8am. It's usually pretty easy for me and I feel like my body is used to it. However, I sometimes have not burned off my energy for the day and end up staying up later than midnight. If I'm asleep past midnight, the next morning tends to be more difficult when my alarm goes off.
Walk us through your morning! We want the full timeline; step by step.
Without fail every morning, I go to the restroom, brush my teeth, and rehydrate with 1-2 glasses of water. Then I crawl back in bed for 5-10 minutes for cuddles with my partner. We usually talk about what we need to do for the day during this time. I check email and messages in bed, and then once I had a good idea of what needs to be done first, I get up and do it. Often in the morning, the first task I complete is Shambavi Kriya, which is the completed Inner Engineering daily practice created by Sadhguru. It's highly effective. For me, it serves as my yoga, meditation, and workout combined. It takes 21 minutes to complete and is done at home which works incredibly with my busy schedule.
Do you make time for breakfast? Whatcha eating?
I usually don't eat a meal until the afternoon or evening. Fruit is my go-to earlier in the day if I need an energy boost. Sometimes I'll throw a smoothie in. I always listen to my body and wait for hunger cues. This is because I have better mental clarity and energy on an empty stomach. Once I do eat, I focus on the color on my plate. I try my best to eat something from each color of the rainbow every day. #TasteTheRainbow
(Side note: If I ever feel lethargic right after eating I try to not eat that same thing again. Food is supposed to be my fuel. If it slows me down, then I know I've eaten something that is not conducive for how I want to feel.)
What are three things you must do or discipline yourself to do every morning?
Self-care, Creating structure for my day, and Meditation
Share 1-3 things you must throw in your bag before leaving and why.
PHONE. WALLET. KEYS. That's usually all I ever need.
What's a habit you want to remove from your morning routine?
An hour. I would like to shave off an hour and get up at 7am instead of 8am.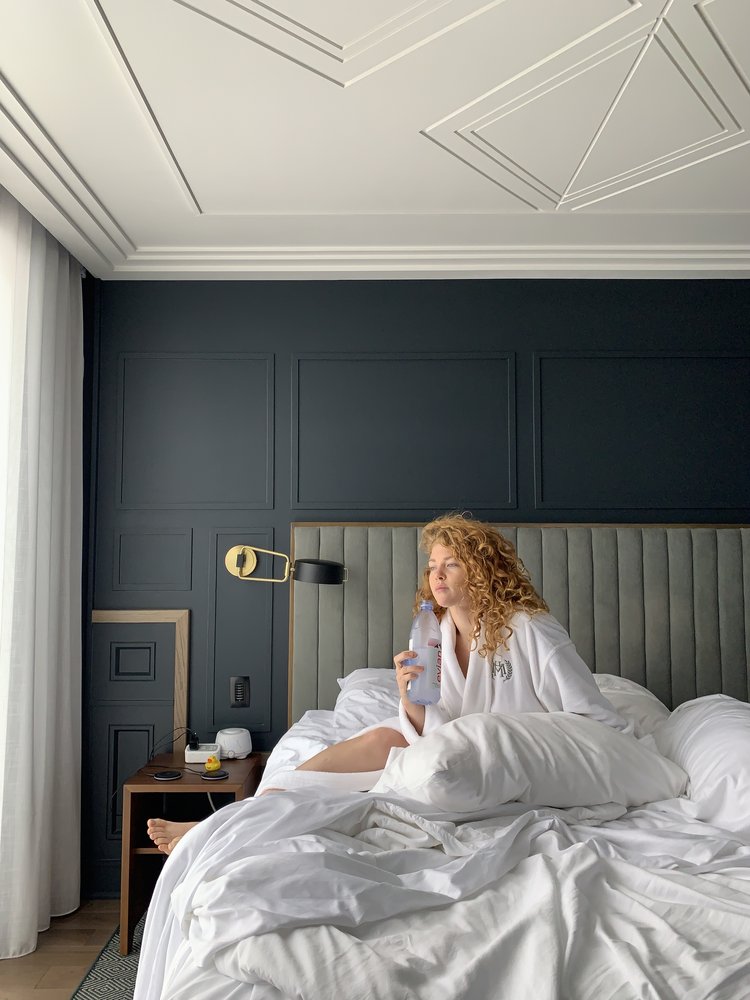 What's a product or hack that has improved your routine?
Getting in bed before 11.
You've got a chaotic day ahead of you! What's helping you manage your time?
I'm old school and keep a paper planner. So when I say "I'll pencil you in" I actually do put lead to paper. Something about scribing helps me to remember things. I will use my phone calendar to to RSPV for things, but I totally prefer my pencil and paper.
Your current favorite pre-zoom song?
What's your favorite thing about the morning time?
Starting a new day!
What do you do? (For work, on the side, and for fun)
I'm the CEO of RayahHair which is the company I founded in 2018. Being the only employee currently, I do anything and everything that needs to be done– Product creation, Hiring, Project Management, Accounting, Sales, Marketing, Branding, Web design, Customer Service, Modeling, Event Planning, Fundraising, PR, Content Planning and production, etc…
On the side, I have found random hustles that help pay the bills. Every now and then I revisit exporting cars which is something I did full time for almost 3 years.
FOR FUN: I love to spend time with my twin flameeee. Whether it's traveling, watching movies, taking a dance class, checking out a museum, going to dinner with friends, trying a new workout, talking about business, having a spa day, ANYTHING is always fun with him.