We're chatting today with Jocelyn Nguyen, Event Coordinator at The Cannon, Tech entrepreneur/Founder of Vivefi, Inc., actress in training, and fashion model. She works a hybrid work schedule.
What time do you usually wake up? Is that a time that feels natural or painfully inconvenient for you?
Naturally, my body wakes up at 9 am- no matter how late I stay up from the night before. Anything before then seems inconvenient, but on a workday, I wake up at 7:00 am. On the weekends, I like to sleep in until 10 am or 11 am.
What it looks like: I wake up from dreaming, (I hate to say this but it's the truth) and roll over to my left to look at my phone. I'll check my emails and social medias for about 15 minutes, then I'll get out of bed to get ready for the day.
Walk us through your morning! We want the full timeline; step by step.
Work day: The day starts earlier at 7:00am (when I have to work in office)
Typical day/working remotely: Wake up at 9:00/9:30 am
The first 30 minutes of my day is my morning routine:
– Skin care routine/brush teeth
– Drink a cup of water and make coffee
– Cook my morning meal and throw together lunch/snacks for the day
This is all done in maybe 45min – 1 hr… I enjoy slow mornings. While I'm doing all of that, I like to jam to music or check my phone. My schedule is different everyday because I don't have a set schedule. Whenever I have to go into office, it would either be from 8am- 1pm or 8am- 5pm. Again, my work schedule varies and changes weekly.
Do you make time for breakfast? Whatcha eating?
I recently started trying different eating routines because I don't really believe in a strict diet or eating schedule. I learned that eating a big breakfast actually helps me stay energized for the day until around the afternoon (2pm), that's when I'll eat a medium sized lunch, and then eat a small dinner at night (+ late night snacks). Regardless, I eat breakfast every day but the time changes and I try to eat just a big morning meal. It doesn't have to be breakfast food (if I want steak in the morning, I'll eat steak). My favorite breakfast meal though is any kind of breakfast sandwich. I often make myself a sausage, egg, and English muffin sandwich with hand-squeezed/fresh Cara Cara orange juice.
What are three things you must do or discipline yourself to do every morning?
I must have a cup of coffee, see the tasks/errands I need to do for the day, and pack snacks in my tote bag every morning.
Share three things you must throw in your bag before leaving and why.
I always need lotion (so I stay moisturized during the day and I wash my hands a lot so they get dry often), flushable butt wipes (I can't use one-ply… it's like sand paper and I don't think it properly cleans), and Chapstick on me (no one likes chappy lips so I like my lips to stay plup and juicy).
What's a habit you want to remove from your morning routine?
I would like to not automatically go to my phone in the morning… or be able to wake up on the first alarm (I have at least 3 just to wake me up).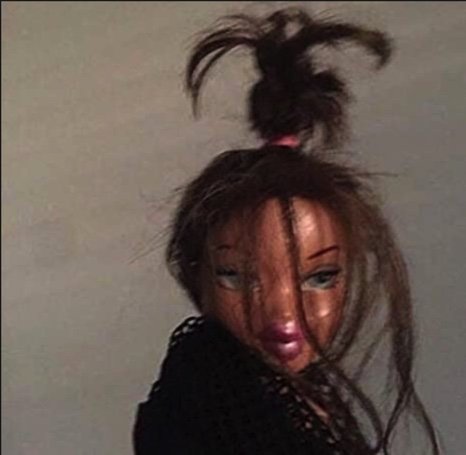 What's a product or hack that has improved your routine?
A few tips that I have that improved my routine: Know the times that you are naturally productive- for me, I'm most productive at 10am- 1pm and 9pm- 11pm ( I guess that's just the artist in me), take walks (get at least 30 min of sun a day), and take breaks (get the tasks you need done but remember to enjoy the present each day).
You've got a chaotic day ahead of you! What's helping you manage your time?
I base my life on Google Calendar. If it's not in my GoogleCal, then it simply doesn't exist. I personally use Notion to manage most of my tasks or things I need to get done. I keep up with these platforms daily so it's rare when I forget I have something. I also am paperless/digital, so I use my RocketBook to take physical notes or to jot things down. Since it has a QR scan, I can reference my notes (PDF scan) digitally in my Google Drive if I need to.
Your current favorite pre-zoom song?
I always have like 3-5 songs on loop. My current rotation is: "Just Fine' by Mary J. Blige, "After Party" by Koffee Brown, "Dat Right There" by Summer Walker, "Drive and Disconnect" by Nao, and "Hip-Hop Saved My Life" by Lupe Fiasco.
What's your favorite thing about the morning time?
My first sip of coffee and being able to have another day!